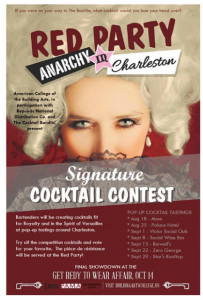 The Cocktail Bandits have partnered with the American College of the Building Arts and Republic National Distributing Company to organize and host our very first Signature Cocktail Competition!
"The College of the Building Arts was licensed in July 2004 by the South Carolina Commission on Higher Education to award the degrees of Associate of Applied Sciences in Building Arts and Bachelor of Applied Sciences in Building Arts. The college offers a four-year liberal arts curriculum in six craft specializations within three areas: forged architectural iron, the trowel trades (masonry, plaster, and architectural stone) and the wood trades (carpentry and timber framing).
The American College of the Building Arts educates and trains artisans in the traditional building arts to foster exceptional craftsmanship and encourage the preservation ,enrichment, and understanding of the world's architectural heritage through a liberal arts education." – ACBA website
The ACBA has a yearly themed fundraiser called the Red Party. Its always in October, right before Halloween and about 900 people show up for the festivities. Last year the theme was "Great Gatsby" and this year its a French Rennoassance masquerade theme. The proceeds go to improving the school and for scholarships.
This year, ACBA and the Red Party are doing things a little differently than they did last year, they're having a Pre party called the Red-y to wear party and thats where we will have the finale to our competition.
Charleston's finest mixologists create a cocktail fit for royals to be served at this year's Red party. During the months of August, September, and October bartenders have created a dazzling array Of cocktails featuring Larcerny Bourbon,  Lunazul Tequila, and PAMA Pamagranate liqueur at weekly pop up tastings. We are excited about the finale on October 14, 2014 at Victor Social Club and can wait to show everyone who won the $500 cash prize and exclusive feature at the Red Party!!
*** Cocktail Competition hosted by the Cocktail Bandits. Sponsored by Republic National Distributing Company***
Like this post
0