Whenever a new season arrives, new and seasonal cocktails are not far behind. Charleston's Cocktail Club has started offering mixology classes every quarter to promote their own seasonal menu, and to teach cocktail lovers how to make delicious cocktails at home as well. We had the pleasure of attending their winter mixology class and it was very creative, informative and leaving ANY class with a buzz is always a plus!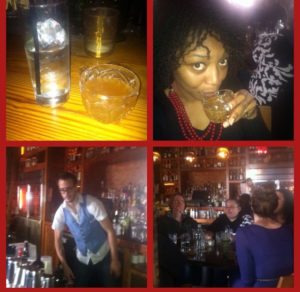 During the class, the instructors, also USBG Charleston chapter members, made cocktails using seasonal ingredients. They also explained each step in making these cocktail masterpieces.
The first cocktail was called the "Apple of My Rye" made with muddled green apple, apple liqueur, Rye whiskey, homemade ginger beer and beautifully garnished with nutmeg. It was delicious and definitely perfect for autumn.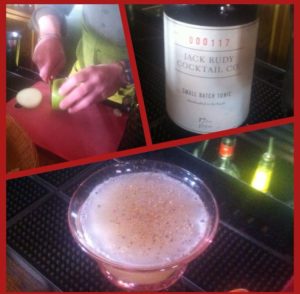 The next cocktail was called the "Smokey Burroughs" which was made with pre-batched, bottled Manhattans that had smoke added with a machine.  The smoke and cocktail are then shaken together, served on a rocks glass, and garnished with a delicious cherry. The smokey smell and robust flavor reminded me of being in front of a fireplace on a winter evening.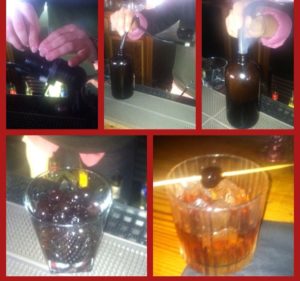 The final cocktail was called "Castle Bravo". This delicious, fresh cocktail is made with muddled kumquats,  Castle Whiskey, ginger beer that was made in house, and garnished with fresh mint and a kumquat. It was delicious and reminded me of a warm, early fall evening.
We urge other Craft Cocktail establishments to model Cocktail Club's educational mixology classes. They provide a more intimate environment for the patrons to get to know the bartenders and it encourages more cocktail creations. The only critique of this particular class is that it could have been more hands on, that way patrons would be familiar with making the cocktail at home, but other than that, these classes are a great way to get to know your guests, teach them, and show them how to appreciate a great seasonal cocktail!
Like this post
0