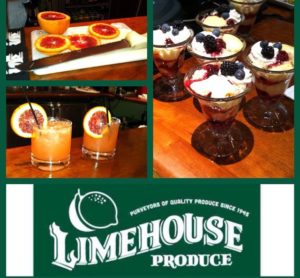 What better way to celebrate the versatility of lemons, limes and other citrus fruit than a contest that challenges artisans to push to their creativity to the limit. Citrus fruits are incredibly resilient and are perfect winter fruit. Limehouse Produce provided the citrus and ten restaurants participated in the competition.
Mae Jordan at Lee Lee's Hot Kitchen created a ginger inspired cocktail that used clementine and lemon juice to add brightness and texture to the drink. The aptly named "Ginger-lee" paid tribute to its red-headed creator and the Chinese themed restaurant and bar.
The Dope Clement the 1st crafted by Ryan Weliver at The Cocktail Club really focused on accenting the citrus fruit. Ryan used vodka, crème de pamplemousse and clementine juice to create not only a beautiful color but also a delight aroma. The cocktail was creamy and bubbly due to the addition of prosecco. Cocktail Club should consider adding this cocktail to their menu.
At Macintosh, we tasted delicately sautéed scallops in a flavorful citrus sauce prepared by Executive Chef Jeremiah Bacon. Head pastry Chef Kelly Kleinser presented us with a lemon cake topped with a merigue frosting served along side lemon sorbet. The cake was slightly tangy and incredibly moist. Chef Kelly can be found most nights at Oak Steakhouse plating fanciful confections.
Wayne Sulli of Republic Reign Lounge created a berry bourbon cocktail called Paradise Grove for the contest. The comely cocktail was mildly tart and garnished with a bruleed Meyer lemon slice.
Slightly North of Broad represented Maverick Southern Kitchens in the Citrus Celebration with their take on a blood orange margarita. Bar manager Stacey used Thai Chili infused Maverick Tequila to add kick to the subtly sweet fruit juice. Forrest Parker, head chef at the Old Village Post House, lemon trifle was velvety smooth with just enough tart from the blueberry garnish.
Chef Vinson Petrillo assembled a dish that simulated several different taste buds. The wild rice and fresh herbs were enriched with flavor from the sweetbreads and balanced by the citrus fruit. A delight for the eyes and palate.
Great experience meeting all the contest participates. We encourage contest as a means to promote creativity and celebrate citrus!
Like this post
0