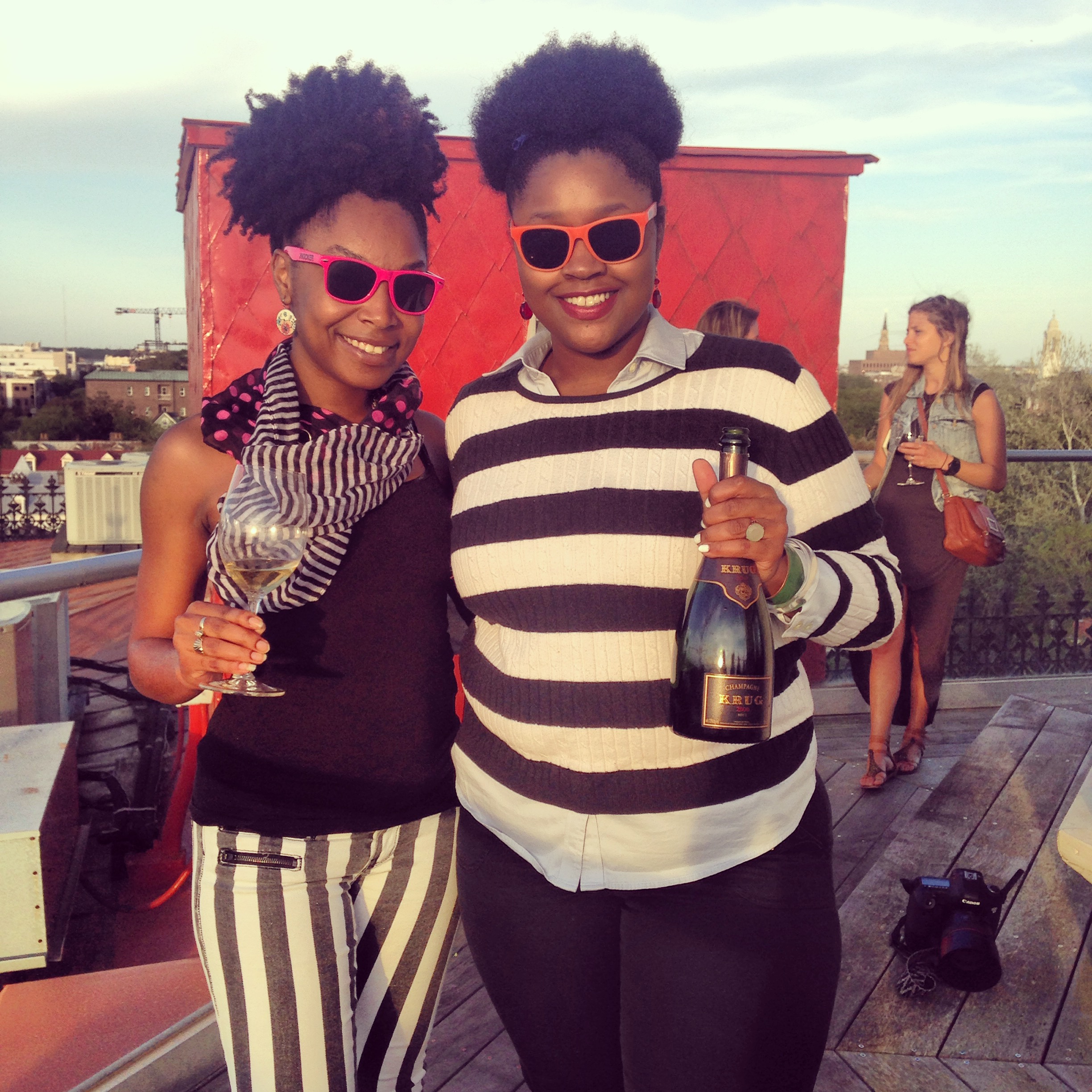 We were told to meet at White Point Gardens nearest King Street. After brief group introductions, we were escorted to a trolley and chauffeured down Legare and Tradd street until we arrived at Wentworth Mansion. Our group was led up five flights upstairs, yes – five flights to the top of the historic home. Wentworth Mansion, home to restaurant Circa 1886, has also functioned as a radio station and now as a luxury boutique inn. One spiral staircase more and we set our sights on the most glorious view of Charleston we have ever seen. The Historic Sergeant Jasper to our left and The Battery right before us.
Krug Champagne brand ambassador, Nicole Burke, introduced our first glass of bubbly, Krug Brut vintage 2000.
That particular year, Champagne, France – where these unique wines are grown, experienced what they called a "tornado". This rare weather occurrence contributed to the extra fine bubbles of this vintage. The effervescence can also be attributed to the 13 year aging of our particular bottle. Circa 1886 served delicious crab cakes topped with sweet tomato jam and cheese stuffed local mushrooms; both bites accented the subtle sweet and earthy flavors of the champagne.
The former president of The American College of The Building Arts lead us on a walking tour from Wentworth to The Old City Jail giving us a brief history lesson of the historic homes in the area. Once at the notoriously haunted jail, we were slowly guided through the old building that previously housed tax evaders, murderers and prostitutes. 21 Magazine Street now serves as an institution educating the building arts; the non-profit organization received a portion of proceeds from the event.
More champagne ensued before we again strolled by beautiful homes on Logan and Lamboll street until we arrived at a plush private residence near The Battery. After meeting the bilingual,  200lb great dane Bugsy, we dined on fresh fruit, delicious smoked salmon and veggie shooters. Ms. Burke then served Krug Rose and Krug Grande Cuvee. The Cuvee possessed hazelnut and fruity notes while the Rose had strong floral and honey flavors. Krug marks all its bottles with custom ID numbers. This enables the consumers to discover the exact year each bottle of champagne is corked. Cheers to Krug Champagne for incorporating Charleston culture in the promotion of their exceptional bubbles!
Like this post
0