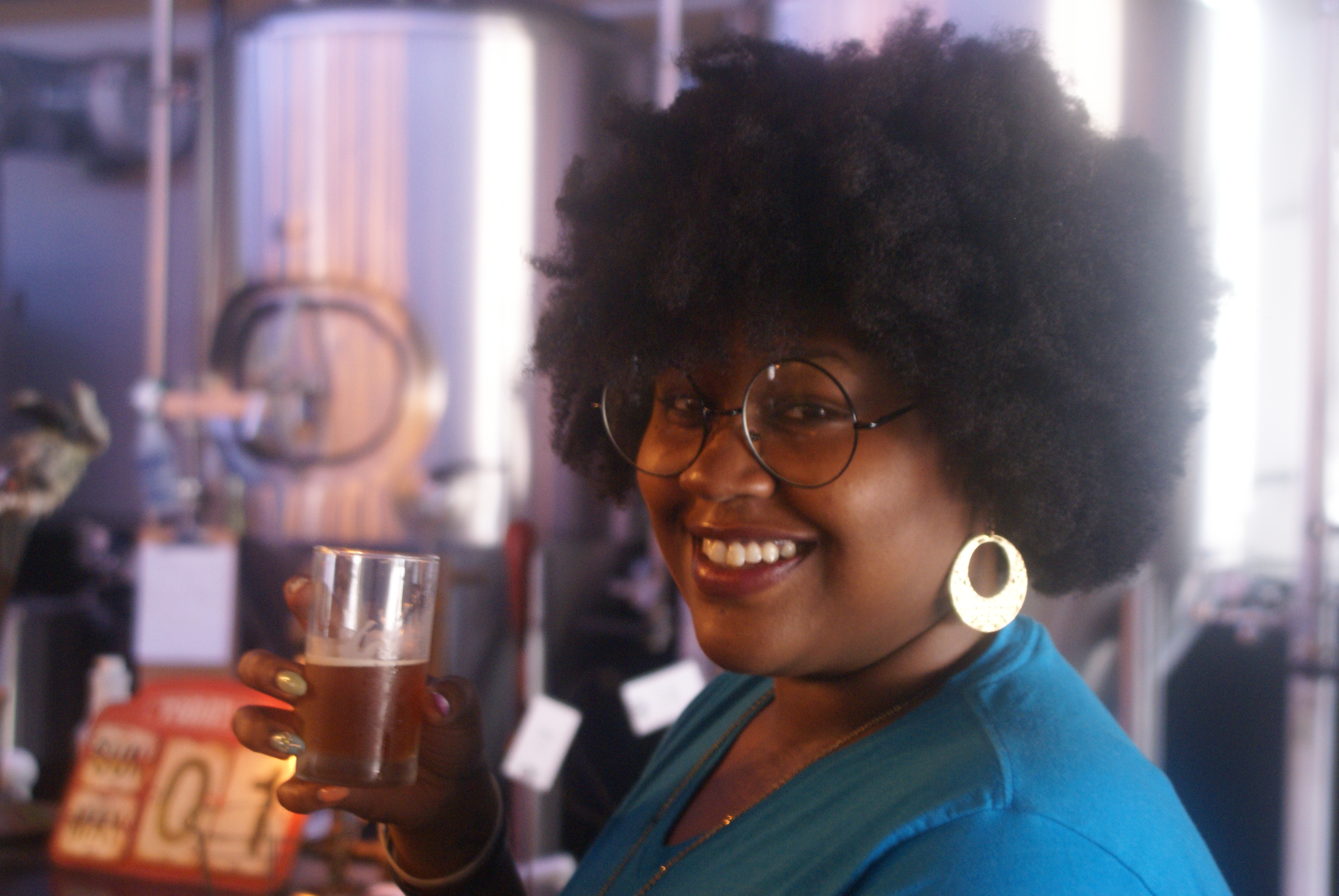 The upstate was a pleasant surprise for us on this tour. We did not know that so many cool and innovative things were happening there, in the food and beverage scene. There were a plethora  of locations on that Satisfy Your Thirst app, but in the small time we had were only able to go to eight different places. Let's get started!
DISTILLERIES
DARK CORNER DISTILLERY
The first location that the app led us to once we got to Greenville, was Dark Corner Distillery. Dark Corner got their name from the corners of the four states; Tennessee, South Carolina, North Carolina and Georgia it was notorious for illegal moonshining back in the day. Roxy and her husband started this distillery to create moonshine.
They also distill the first bourbon that was ever created in South Carolina,  and currently have a new whiskey line exclusively marketed to women called Whiskey Girl. It is the lightly flavored whiskey made with the female palate in mind. They also makes few flavored white whiskeys, which are unique because they are not aged in oak barrels to get that dark brown color. They are currently building another facility in Hilton Head that should be opening soon. You can check out more about Dark Corner at their website at www.darkcornerdistillery.com.
SIX AND TWENTY DISTILLERY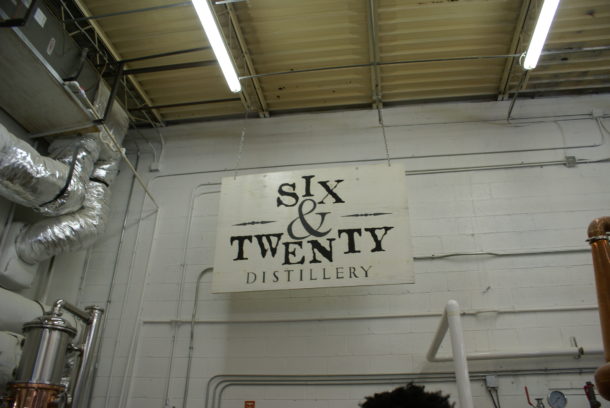 The next up on the Satisfy Your Thirst Tour was Six & Twenty Distillery in Powdersville, South Carolina. Farmer and David, are some amazing guys who pride themselves in being a "grain to glass" production. That basically means that everything that is used in their spirits, is grown in our beautiful state. They make whiskey, gin, vodka, and bourbon. They actually have a bourbon that has 5 grains from the upstate, Midlands, and the Lowcountry.
Their entire distillation process is done at their distillery… Even the bottling. We even had the privilege of tasting some of the mash, which is the fermented grains juice that is made before distillation. These guys are fun, smart, and really enjoy but they are doing. And that's what it's all about! Please visit them on their website at www.sixandtwentydistillery.com.
BREWERIES
UPSTATE CRAFT BREW CO.
Upstate Craft Beer Co. was an amazing microbrewery and an even better experience. Their concept is pretty cool too and it's the only establishment of its kind in South Carolina. They are "Greenville's unique brewpub combining a nano brewery, taproom, home brew shop and U-Brew on premise." Customers can come in, consult with a brewmaster, make their own craft beer recipe, let it ferment for a few weeks, then keg their beer and take it home. Home brewers can purchase materials for their own beer projects at home.
They are also doing some really cool things with the beer, using unconventional  ingredients like beets! We tried a beet beer and it was a beautiful color and a very interesting taste. We can't wait to go back and make our own beer recipe. They experiment often and change their taps on a regular basis. Their bar food was pretty tasty as well. Those guys are doing some great things there and we love their story. They were just some young guys that wanted to work for themselves and provide opportunities for others in the process. We are inspired and excited to see what else they come up with! Visit their place and check out their website. www.upstatecraftbeer.com.
THOMAS CREEK BREWING
The next brewery that the Satisfy Your Thirst app led us to in the upstate, was Thomas Creek brewery. Thomas Creek is the second oldest sustainable brewery in the Carolinas, it is 18 years old. Thomas Creek is also a home to smaller breweries. The product is made in warehouse with the brewmasters recipes. Thomas Creek brewing is an example of how an idea can become a huge production. This small business also shows us how to bring the family together, because the father/son duo has never been closer than they are now. They are a well know brand that continues to cultivate and innovate, not to mention make fantastic beer. Their flagship beer is their Red Ale, but they also have cool flavors like peanut butter.  The facility is nice, but the people are even nicer. Please go check this awesome place at www.thomascreekbeer.com.
SWAMP RABBIT BREWERY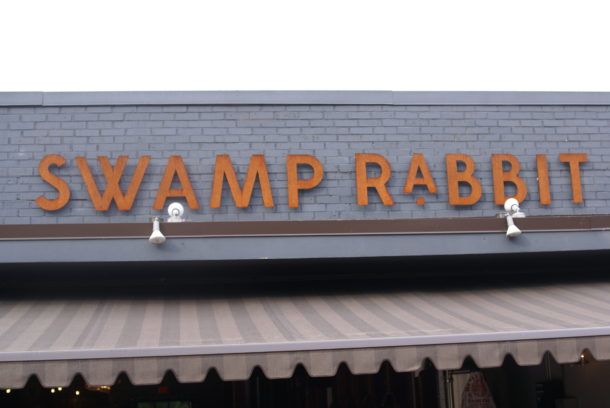 Swamp Rabbit Brewery is located in Travelers Rest, South Carolina. They pride themselves on creating craft beer that " captures the local heart and soul of their community." It's a cool fun place, that serves delicious beer, has wonderful outside seating, and a food truck was on location if anyone is hungry. A fun fact about Swamp Rabbit is that they have LED lights that shine on the stills at night, they change colors too! They were so cool! We love that the Satisfy Your Thirst app led us to this laid back, chill, community gem. They don't mind giving a tour of the space either. To visit, and/or learn more about their story at www.theswamprabbitbrewery.com.
JUICERIES
Thankfully, the SYT app showed more than places where one can get any creative. They have also told you about other places that way I can taste drinks that do not contain alcohol. In the upstate there are a number of creameries that supply milk and dairy to the rest of the state but, we didn't have a chance to check them out we did however, get the check out two great juiceries: KUKA Juice, and Southern Pressed Juicery.
KUKA JUICE
KUKA Juice was such a cute place in the upstate. Samantha let a sample all of the juices and told us that they were the first cold pressed juicery in South Carolina. They got the name from the goddess of health and joy when they went to Colombia for an excursion a few years ago. Her name was KUKA mama. They saw how healthy and fresh everything was there and wanted to bring that type of juicing back to South Carolina. They started off selling juices at the Farmer's market, and now they have their own store.
A fun fact about KUKA Juice is that Sam is also dating the master distiller from Dark Corner Distilling! We love that connection! To learn more about KUKA Juicery please check them out at www.kukajuice.com.
SOUTHERN PRESSED JUICERY
Southern Pressed Juicery, located in downtown Greenville, is a 100% organic, raw, coldpressed juice shop; with superfood smoothies,energy bowls, and plant-based foods. They offer a cleanses, smoothies, and health food options that will make you feel better from the inside out. SPJ makes pure juice; they don't process or pasteurize and never add anything extra. We tried about five different juices, and everything was so fresh and clean. They also use a few of their juices for cocktails! We absolutely love that! It was the perfect way to Satisfy Our Thirst after a long day of "drink touring." Lol!! Please check them out at www.southernpressedjuicery.com
Our time in Greenville with the SYT tour finally came to an end. Now we're taking our talents, as well as our thirst off to Columbia!! Cheers Greenville! Until next time…..
Like this post
0